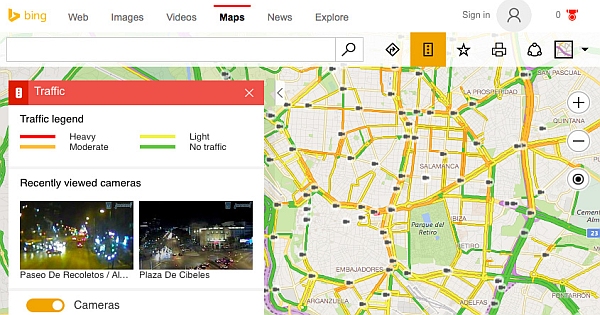 The inclusion of traffic cameras to the traffic maps on Bing Maps has been announced. With this development, users can now see traffic cameras directly on Bing Maps. This new update to map services by Microsoft might just be the reason to change from Google Maps. Bing Maps and Google Maps have gone ahead to include a very amazing feature, even in the gloominess of their rival.
Traffic maps
With the addition of traffic cameras, Bing Maps will now offer users the capability to view traffic situations through surveillance cameras available on different routes across the world.
In the past, Bing Maps let users see the traffic situations before getting on the road, making use of an easy color code of red, green and yellow, like Google Maps. Nonetheless, this particular service was not updated regularly and did not reflect the actual traffic conditions on the road sometimes.
Microsoft is trying to stand out from the crowd by providing a real-time view on circulation with this latest update. There are already more than 35,000 surveillance cameras installed and connected to Bing Maps across 11 different countries, according to Microsoft Company. You need to turn on the traffic layer by tapping on the traffic icon, in order to see them. If a camera is available, zoom into the area to see camera show up. You can toggle the cameras on or off, if you so desire.
On the other hand, you have the choice of viewing cameras that are viewed in recent times.
Although the feature is available in only 11 countries including the United States, Microsoft Company has the plan to add many more cameras at certain time in the year 2016, to make sure that this Bing Maps service reaches more countries.