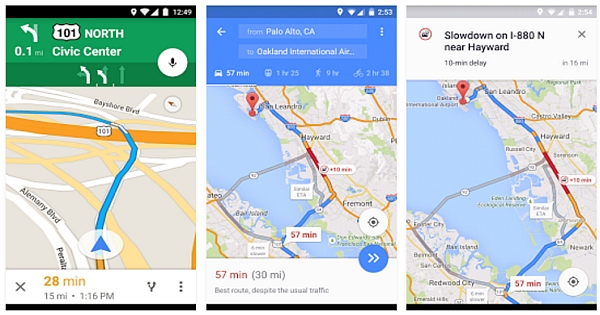 The Android Map App has just received a new updates. The updates are among the initial steps that will bring a new look and features on the app. The new version 9.20 does not seem to carry any great features, although it has got some noticeable improvements. Among them is a shortcut that has been added to the timeline which allows for quick adding of a place to your history. With this feature, there is a new setting to control when turn-by-turn instructions are offered when voice calls are made. Furthermore, Android Maps will pair your reviews with any of the pictures you will have submitted.
What's New?
Official Changelog:
Maps official changelog update has already been posted to the Google Play Store. The app is missing most of the changes that we will put here, although some of them mightn't be missing. Furthermore, suggestion for editing Work and Home new incorporates points of interests as well as addresses. When the distance covered is far, walking man becomes Hiker on Directions screen and Callouts for the current road/street and next turn in navigation are missing.
Reviews with Photos:
Truly a picture is work a thousand words, and with the current updates on Google Maps for Android, you can share your reviews with a picture or pictures. Reviews can now be paired with the photos that we have submitted from the same location. Presently, reviewers have got the opportunity of telling more of a story about their experiences, more by conveying things like ambience in a lounge, serving size at a restaurant, or how packed night clubs can be. Photos will be shown beneath the reviews.
Toggle Turn-By-Turn Directions during Voice Calls:
In case you are receiving a phone while driving (hopefully on a speakerphone), you wouldn't want to have the Maps app calling out directions each and every time you are making a turn that is obvious. With the help of the recently added audio toggles, you can consider muting the instructions. There is also a single toggle that can be used to disable/turn off the directions when you get a voice call. You can access it on: Settings -> Navigation Settings -> Play voice during phone calls.
Navigation with Better Signage:
The brand new signage as you drive is yet another improvement to Navigation. The Android Maps app presently shows the names of exits and streets for your turns, rather than just the lines you are supposed to turn on with disconnected names at the screen top. It makes it easy to drive in chain of very short streets, multiple streets that are closely together, or awkwardly arranged intersections without making a wrong turn.
Add A Place To Your Timeline:
Despite helping us to keep track of where we have been before, the Timeline was seemingly inflexible. With the current Timeline, you will get plenty of features like adding a stop, make slight corrections to a near destination, or delete a place altogether.
Download Links